COCO x Marcus Walters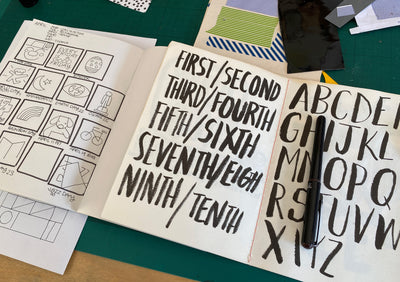 This year we took on a new challenge: we decided to launch our very first range of sweets. We were determined to find the perfect artist to work with on this project, and were thrilled to come across award-winning designer and illustrator Marcus Walters.
Based in the UK, Marcus is known for his dynamic graphic style and colourful optimism. His illustration work traverses many mediums from hand lettering, drawing and paper cutting to sharp vector iconography. Marcus' image-making is complemented by his art direction and design work which adheres to three basic principles: Creative, Enduring and Precise.
"Sweet packaging has been on my wish list of projects for some time so there may have been a preconceived the ideas lurking somewhere in my head! I've got quite a diverse style of artwork so was initially unsure what style I might use for this project. Focussing on the brand's 'Jelly sweets' and sketching several different ideas I decided that a playful, hand drawn illustration could be good fun"
Marcus Walters
As an illustrator Marcus is used to working closely with clients in order to get the most out of each project,  and explained to us that as an artist he also enjoys the creative freedom of producing something new. He added "I am glad to say that COCO allowed me to do both and I would like to think that has resulted in a more successful collab". 
When we asked Marcus his thoughts on COCO as a brand he told us "You can tell if a brand is authentic, I love that COCO tell the end to end story and care about the craft of that whole process. One thing isn't more important than another, it's love and care at each stage. I love that COCO celebrates the art and packaging and supports the people and stories behind it".
Our COCO x Marcus Walters range of sweets is available to purchase here.