COCO x Sebastian König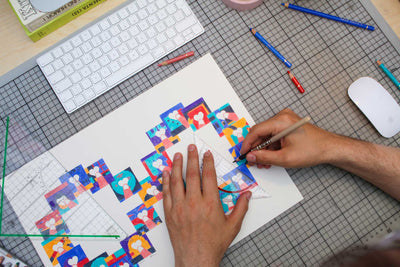 This summer we launched our very first collection of biscuits. Months ago when we started planning this collection, the team got together to look for the perfect artist to feature on our biscuits' packaging. That's how we came across Sebastian König. 
Sebastian is a talented illustrator and graphic designer based in Hamburg. He works mainly in the fields of editorial and commercial illustration. His artworks are defined by a rough papercut-like vector style, grainy textures and well picked colour compositions.
Our Lime Melt Biscuits, made of the finest Scottish lime infused butter biscuits and half dipped in dark chocolate, feature 'Don't loose your head'.
Our Orange Melt Biscuits created using the finest Scottish made orange infused butter biscuits are half dipped in milk chocolate and feature "Whistleblower".
"I enjoy the moment I look at a finished drawing, that creates an a-ha moment in my head and I realise the idea works well and does some magic in my brain".
Sebastian König
We spoke to Sebastian about our collab and asked him his thoughts on COCO as a brand. He told us "I like brands that value illustration and art along their business or products" and added "It's great to see companies using visual language to explain things or make products more valuable and interesting".
"In the case of COCO it is a perfect match that underlines the high standards of the chocolates with great visuals. Also it is really nice to see all these great packaging designs building a nice emotional and lively product range".
Our Biscuits' collection is available here.