COCO x Kangan Arora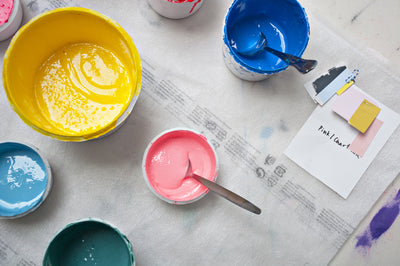 We paired up with London based textile designer Kangan Arora to create the perfect packaging for our Milk Chocolate Honeycomb.
Born in India and now based in London, Kangan's work explores bold colour, geometry, abstraction and playful pattern application; with a specific interest in traditional and contemporary colour languages and processes.
Kangan isn't a stranger to COCO's team. The first time our director spoke to her was in 2017. Calum came across Kangan's work and immediately contacted her about a future collab. About that first chat, Kangan says "I wasn't aware of the brand then but immediately went out to one of their London stockists to sample the chocolate – needless to say, I loved it and immediately decided to work with Calum". 
When asked how she feels about COCO, and in particular what her thoughts are on the brand's collaborations with artists, she told us:
"I think it's a fantastic initiative and shows that the care they put in the chocolate making extends to every part of their creative business"
'Step', which features on the Milk Chocolate Honeycomb is, in Kangan's words, "a fun exploration of shape and colour that wraps around the packaging. The circle motif was repeated across the 2 designs, as a semi-circle and quarter-circle". She then added "perhaps we'll do another with a full circle soon!"
Our Milk Chocolate Honeycomb featuring Kangan Arara's artwork are available here.