COCO x David Bray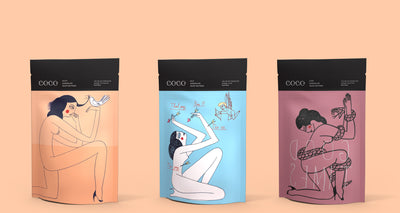 Since the middle of last year we have been working with British illustrator David Bray to envelope our first Buttons & Spreads Collection, which launched this month on our website. 
Working between London and Kent, David creates delicate drawings using pencils, pens, inks and paint; forming a world that is rooted in the reality of dark fantasy, beauty, erotica, and the female form. His work is versatile and continually evolving, which is what initially caught our attention. His art spans a range of creative styles depending on the project at hand, but maintains a very distinctive style.
When asked what he thought, as an artist himself, of COCO as a brand, David told us: 
"I think it's such a wonderful thing and feels very adventurous - I like that It gives the brand a rather special, collectible feel to it, like you're not just buying a product, but a piece of art as well. Plus, I like that you are introducing new artists to a new audience".
Speaking of the artworks our team selected for this project, David told us he was "really pleased with the choices COCO made, and the 3 pieces together look lovely as a set". He then continued in explaining how: 
"the drawings are vibrant, and quite cheeky in their own way, and my aim was to create something quite expressive with pure, simple line-work".
When we asked him if he knew us well as a brand before this collab, he admitted "I hadn't heard too much about the brand before, apart from seeing the packaging in some local stores" but to our delight he continued "after being introduced to the brand properly last year I am now singing your praises to everyone I know who loves a sweet treat!".
The COCO x David Bray Buttons & Spread collection is available here.