Making The Talisker Sea Salted Caramels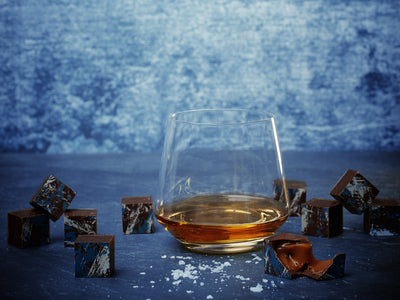 For the second time this year, we were delighted to collaborate with fellow Scottish brand Talisker Whisky. We created a product that we believe to be the perfect mix of chocolate and whisky.
We specifically crafted the Isle of Skye Sea Salt Whisky Caramels to pair exceptionally well with Talisker Whisky. The powerful and complex character of Talisker, with its sweet malt and fruit notes, tastes incredible when blended into our bittersweet Colombian 61% dark chocolate which encases the caramel.
The Isle of Skye sea salt, also made in the Scottish Highlands, cuts through the sweetness of the smooth buttery toffee caramel which is infused with Talisker. The Talisker Sea Salted Caramels reflect the rugged elements of the homeland of Talisker and offer a smoky, salty bite of the dramatic coastline of the Isle of Skye.
In keeping with the Scottish Highlands theme of this very special collaboration, we worked with contemporary artist Ellis O'Connor to create the perfect artwork to feature on the packaging. Her abstract portrayal of the North sea, 'Collision', reflects both COCO's artistic style and Talisker's connection to the sea.
The COCO x Talisker Sea Salted Caramel Gift Set is a limited edition available to order here.