COCO x Atelier Bingo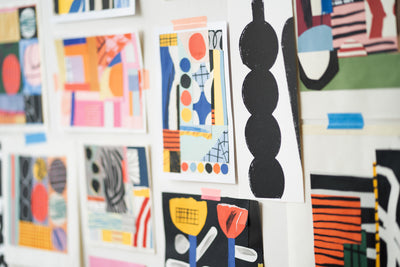 We worked with French creative duo Atelier Bingo to create three bespoke collages to envelope our most popular chocolate bar flavours. The collaboration produced some truly stunning pieces of work and, curious to find out more about Atelier Bingo's process, we travelled to Clisson, a small French town near Nantes, to catch up with Adéle and Maxime.
The guys welcomed us into their idillic country home, which is also their workshop, and we spent time talking about art, chocolate, and getting their take on this collaboration. They told us they found the whole process refreshing, and were pleased to work with a brand who treats artwork with so much respect - which we hear is very rare these days!
We also found out a little more about their background... Atelier Bingo is a French creative duo made of Maxime Prou and Adèle Favreau, who share a passion for illustration, graphic arts and pattern design. Their studio is currently based in Clisson, a rural area outside of Nantes, where they first met at university and decided to collaborate. The duo originally specialised in making screen-printed posters, using not only different artistic techniques, collage, gouache, pens, inks, but also various shades of colour combinations to create electrifying artwork. They love experimenting with various graphic techniques, to create colourful and abstract works, and do a wonderful job at that!
Speaking of the collaboration with COCO, Adéle told us "it was the first time we created a collage for a commission piece and it was really fun. I think that's reflected in the work, because all three collages look fun. They look a little bit like a Flipper game! We wanted the work to have a joyful quality, and to be playful".
On the same subject, Maxime said "what's interesting about the COCO bars is that the work is central to the product, the design (in our case the collage) is not designed around the label, it's the label that fits the design" and continued to explain how "from this you can see the freedom given to the artist, and the respect of the work. For us this is a great concept."
The first time we came across Atelier Bingo's work we were struck by their fresh approach to producing art, and that's what initially motivated us to contact them. We were drawn to their work because of its uniqueness and playful nature. Collaborating with them was a pleasure; Adéle and Maxime took the time to understand COCO as a brand, appreciating our values and what we strive to communicate to our costumers through the merging of artwork and chocolate. We gave them complete creative freedom and trusted they would produce work that would suit our product. In the end, the colours and pattens of their collages perfectly complement the chocolate flavours they now envelope, and we couldn't be happier with the results.
The COCO x Atelier Bingo bars go on sale today and are available via our website here.