COCO x Andy Welland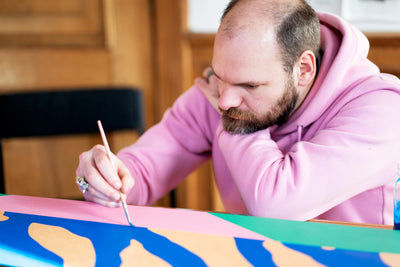 Last year we met Andy Welland and fell in love with his work. As soon as we saw his 'Loose Ends' series we knew it would look great on our new collection of Fruit & Nut chocolates. 
Based in Sheffield, Andy is a visual artist and designer. His artistic language is made of bright playful collages and colliding shapes. His work is a mixture of forms; his distinctively abstract compositions are created from repurposed off-cuts, thoughts, sound and movement.
Andy told us that when he initially spoke to Debbie, our product development manager, he was curious to find out what she expected from him and how COCO's brand ethos compared to that of others he had worked with in the past. He told us other companies tend to have a specific idea of the work they want; for example, if the product includes oranges, they'll likely need the artwork to reflect that and it will need to include the colour orange, or the shape of the fruit. While there is nothing wrong with that approach, Andy was pleasantly surprised to learn COCO's work flow is completely different. He told us what struck him the most was that "Debbie picked up more of an energy of the work" and left the creative process entirely up to him.
Both artworks chosen to feature on our new collection belong to Andy's 'Loose Ends' series. Each piece from this collection started off from loose end cast offs from previous design projects. In Andy's words:
"It might have been a shape, or  a form, a typeface, or a bit of a logo… There was a collection of these cutting room pieces. Enough of them to think there was something interesting here, and each one of these pieces represents something. And they've still got value, even though they are not used in the final product"

Our Product development Manager Debbie, much like the rest of the team, was thrilled with Andy's collaboration as ''he we was up for trying different things, different designs. He came to the table with multiple ideas. He took what we asked him to do and just ran with it, which is great from a product development point of view".
Earlier this year we took a trip down to Sheffield to show Andy the finished product for the first time. He told us it was great to see the two products next to each other and that "they really do look like two little pieces of artwork", On a more technical note he spotted that "the colours have come out amazing as well - coming from a design background I know blues and reds are notoriously difficult to print!"
We come away from this collab feeling very positive and proud of the results. The energy of Andy's work is such a brilliant fit for our brand. Does this mean we will be packaging more of our single-origin chocolate in his artwork? Watch this space...
Meanwhile, our COCO x Andy Welland collection is available here.