Calum Haggerty | Managing Director at COCO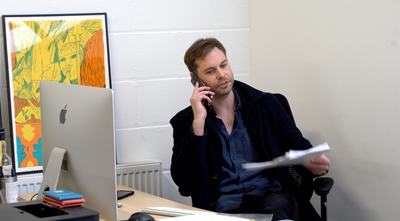 Calum Haggerty took over COCO Chocolatier in 2013. Up to that day he had worked for the Fire Service in Edinburgh and had never owned a business.
Calum grew up in the Scottish Highlands and attended Heriot-Watt University in Edinburgh, graduating in 2005 with a BA in Business & Finance. He developed an interest in art & design in his early twenties and started collecting collages and various prints from independent artists.
"COCO became available and I saw it as a perfect opportunity to combine my two passions: business and art & design".
After he bought over the business, Calum looked at the brand as a whole and set himself the goal to improve it in whichever way he could. He decided that he would maintain the in-house manufacturing aspect, meaning that the office and the factory would live in the same building and the teams could interact on a regular basis. 
"The way I see it is that you have to be a content creator. If you're not actually making anything, where are you adding value?"
He then looked at the sourcing of the cacao, and its origin. He opted to follow the 'Origin Made' model, in which COCO purchases a product that is more finished at origin (Colombia) creating local jobs and supporting the country's economy.
"When we say we source our chocolate at origin, we mean origin of the actual bean."
And finally, he looked for a way to make the artists who create the wrappers' artwork a main feature of the product. The artistic process is highly collaborative, and the artists are given complete creative freedom to produce what they think may suit the chocolate best. Every work is treated like a mini artwork, and every collaboration is documented.
"Although we are a small team we are quite complex. We have sales, marketing, content creation, NPD, the manufacturing facility downstairs. In theory I am in charge of all these things, but what I try and do is find people who are good at their job and let them crack on with it".
As a business, COCO has been steadily growing every year. Calum is currently working on plans to move COCO to a larger building, that will be both the brand's home and a place that costumers can visit. More details will be revealed soon... Watch this space!