COCO x Adam Nathaniel Furman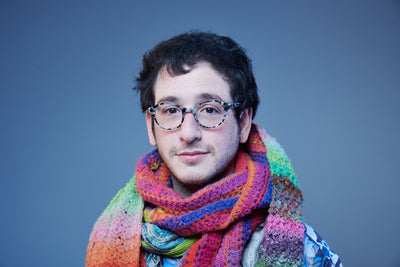 At the beginning of this year, we started to work together with Adam Nathaniel Furman, who designed our contemporary Christmas Collection this year. 
Adam Nathaniel Furman is a British artist and designer of Argentine and Japanese heritage based in London. Trained in architecture, Adam's atelier works in spatial design and art of all scales from video and prints to large public artworks, architecturally integrated ornament, as well as products, furniture, interiors, publishing and academia.
Adam Q&A:
Where do you usually work and where do you feel the most inspired?
"I work in my studio, which used to be in Clerkenwell but is now in Chalk Farm. I tend to get very inspired just walking around London, or really any city, I get stimulated very easily as there is so much beauty and interest in the world around us! However, if I ever have to pick one city to go to be inspired, it is always Rome!"
Could you tell us more about the process of creating your work?
"I have a pretty traditional path towards creating pieces. I begin in my sketchbook, drawing, then I move on to paints, usually acrylic and inks, and then I move onto the computer to work up the designs in scalable and transferrable formats. If it is a 3d project, I will also make models along the way..."
We noticed that you have an intriguing colour palette, is there a rationale behind the choice of colours or do they come naturally to you?
"They definitely come naturally... I have been using these colours since I was a child when I first started colouring in really. I adore colour, and think through colour, so it is very instinctive."
What is the inspiration behind these works?
"Interestingly these works all have a cosmic aspect to them, being inspired by looking up at the stars, and maps of the sky, the feeling of joy that one feels when looking up at the beautiful expanse of creation..."
How did you find the collaboration with COCO?
"It was  a pleasure to be approached by the company, and I am really excited to have been able to have provided work that will be a little celebratory part of people's lives in the festive season."
Which is your favourite design from the COCO X Adam Nathaniel Furman collaboration collection?
"Naughty question... If I am forced, I would have to say Nova Descending."
COCO's full Christmas range is available to purchase here.