COCO Chocolatier x Hola Lou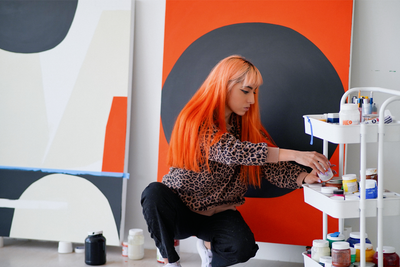 Earlier this year, our collaboration with Hola Lou took flight as we delved into the creation of our freshly unveiled AW23 collection. 
Lou is a multi-talented artist, designer and muralist. Presently situated in the vibrant tapestry of Mexico City, Lou draws abundant inspiration from the world of nature and her immediate environments. 
Lou's artistic expressions bear the indelible mark of a contemporary minimalist perspective. This unique viewpoint elegantly weaves the tapestry of her Latino heritage into every creation, epitomising a fusion of modernity and simplicity. 
The AW23 collection created for us by Hola Lou encapsulates her contemporary minimalist perspective. The inspiration behind the collection is mainly Hola Lou's background as an artist. The bright and contrasting colours within Lou's previous artworks reflect her different experiences and travels around Mexico and the Caribbean. Within this collection, Lou has capitalised on cooler colours.
"A mix between seasons, winter in the tropics if you will."
We had a chat with Lou to learn more about her as an artist and her creative process.
Could you tell us more about yourself and your journey with creating?
As a graphic designer, my main goal is to always achieve a certain level of visual aesthetic and a clear message to communicate. My transition from graphic design to art was pretty much a no-brainer.. I was feeling relatively limited at all times with my design clients, while I tend to have full creative direction control as an artist. This sense of my clients 'trusting' my process and artistic decisions is very rewarding, even if it puts a lot more pressure on me, I always feel like I should give it 150% on all projects. Creating is part of who I am and solving problems with a creative mind is what I always strive for.
Where do you feel most inspired?
More than a physical place, I feel most inspired when I'm in a good mental state. Those are the times when most of my best ideas, projects and even epiphanies come to life. 
Could you tell us more about the process of creating your work?
It all starts in my head first. Before hitting the studio, I will take a walk or just sit down and take a minute to think of what I want to solve, the clients' brief, etc. Once I have a rough map of those ideas, I usually either start with a hand-drawn sketch or I would go directly to sketch digitally in my computer or iPad in case I do have a very clear idea of what I want to do. I colour everything digitally and experiment with thousands of options, this is probably where my time goes by.. colour composition is super important to me.
As soon as I love the design, I would match my paint colours to my computer's screen, and then lastly trace and paint on whatever medium I'm working with. 
What is the inspiration behind these works?
Mostly my background as an artist. The place I come from, my years in the Caribbean part of Mexico mixed with my recent years in Mexico City. The way my work has been evolving throughout the years is merely a reflection of who I am personally, the things I've gone through in life, the people I've met, the travels, etc. These artworks are a personal window to those stories and experiences.
Which is your favourite design from the COCO x Hola Lou collaboration collection?
I love them all, but truly Golden Snow might be my favourite at the moment. I love making fun of the juxtaposition of my everyday scenarios (like the palm trees, and the natural golden tones of Mexico's sunsets) mixed with the 'colder' scenarios one can find on the other side of the globe (like snow and cold colour palettes). Last time I was in Scotland I was freezing to death, while everyone else had shorts and t-shirts outside. I love to blend those places together to create a sense of surealness.
How did you find collaborating with COCO?
I'm thrilled to be part of this project! The fact that the brand has collaborated with so many great artists from around the world really speaks to me. A brand that cares for contemporary art has so much focus on design and aesthetics is definitely going to always be on my radar of collaborations I want to be a part of for sure. 
Which past COCO artist collaboration is your favourite? 
Probably William Lachance, I am a long time fan of his work. However, it is a tough call, there's just so many great artists involved!
Make sure to follow @cocochocolatier on Instagram, Facebook and Twitter to stay updated on our AW23 release.