COCO x Innis & Gunn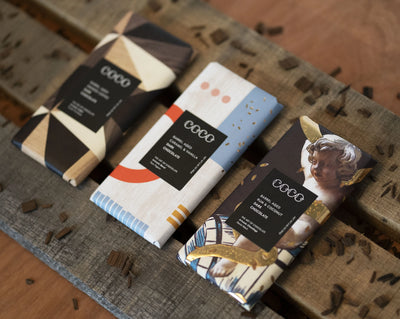 Project Ampersand was a collaborative series set up by Scottish Brewery Innis & Gunn. It challenged like-minded independent brands to create unique products inspired by Innis & Gunn's Original barrel-aged beer. 
We reimagined Innis & Gunn's Original through the development of three limited edition chocolate bars, made in our Edinburgh kitchen with the finest single-origin chocolate from Colombia. Each bar is wrapped in original artworks by Chris Turner, David Mach and Tom Pigeon.
We worked hard to craft three unique bars of chocolate that followed the brief. Each bar was directly inspired by the flavour profiles of beers within Innis & Gunn's barrel-aged range. We specifically chose to wrap the bars in unique design by some of Scotland's leading & most original artists: David Mach RA, Tom Pigeon & Chris Turner (Turner Furniture).
"Project Ampersand is a platform to showcase creativity and unique pieces of craftsmanship. We have particularly enjoyed collaborating with a like-minded independent Scottish company like Innis & Gunn. Each artist has been inspired to create something totally unique that wouldn't exist without the input and inspiration from the Innis & Gunn barrel ageing and brewing processes".
Calum Haggerty, Director at COCO
"COCO is much more than just another ​chocolatier. Through their 'Art of Chocolate' platform, the team at COCO utilise their wrappers and external packaging as a platform for independent artists to showcase their work in a truly unique way. The collaborative process and working with COCO have been fantastic and we're thrilled to be able to showcase our brand and beers in such a different way."
David Moule, Senior Brand Manager at Innis & Gunn