Launching Project Ampersand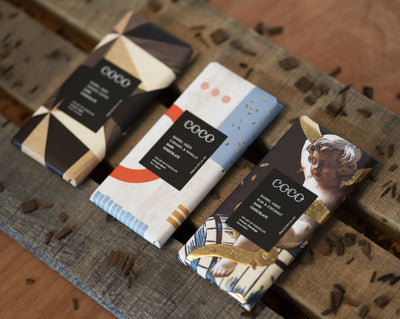 Today we are proud to launch three of our new limited edition chocolate bars as part of Project Ampersand, the exciting collaboration initiated by Innis & Gunn. The Scottish beer brewery challenged us to create a unique product inspired by their 'The Original' beer barrel-ageing process. We collaborated with three talented independent artists who each created original artworks that we have showcased on the packaging of three limited-edition chocolate bars.
Chris Turner | Smoked Coffee
The founder of Turner Furniture was inspired by the 'barrel into beer' process, which involves toasting the barrel pieces before immersing and maturating in the beer in order to achieve the desired flavour. Chris based the design of  'Barrel Aged Smoked Coffee Dark Chocolate' on Turner Furniture's signature geometric parquetry style. The result is a unique design that celebrates everything that's inside the barrel, in an abstract narrative made of different woods that reflect both the beer and the chocolate. 
David Mach | Rum & Coconut
Renowned Scottish artist David Mach is known internationally for his large-scale collages, sculpture and installations. David's design features an angel sitting on beer barrels to represent a "heavenly combination of beer and chocolate", which he feels best represents the collaboration. To pay homage to the flavours used by Innis & Gunn, the 'Barrel Aged Rum & Coconut Dark Chocolate' bar has ingredients of the brewing process arranged across its wrapper.
 Tom Pigeon | Caramel & Vanilla 
Creative studio Tom Pigeon was founded in 2014 by Kirsty Thomas. Specialised in prints, jewellery and stationery, the studio welcomes creative commissions such as Project Ampersand. Tom pigeon repurposed elements from the barrels and barrel-ageing process in the design process of the 'Barrel Aged Caramel & Vanilla Dark Chocolate' including the metal fixings, wooden staves and circles. The colour palette is inspired from the tones and textures of the wood, the painted ends of vintage barrels, with reference to the caramel and malt aromas of the beer and chocolate.
* Each bar can be purchased individually, or as part of the Project Ampersand Gift Set here. Please note this is a limited edition run.