Dreaming of a Green Christmas? Top Tips for a Sustainable Christmas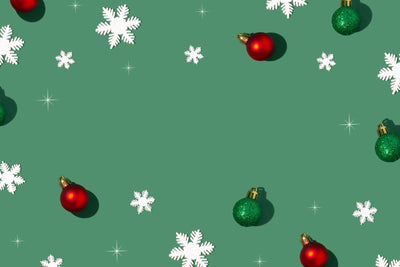 Christmas may be the most wonderful time of the year, but it's not always the kindest to the planet. Here at COCO, sustainability is an extremely important value for us, and we want to make sure the importance of our planet is remembered at all times - even at Christmas!
Unfortunately, the festive period brings with it an inevitable mountain of used wrapping paper, a pile of unwanted gifts and those leftovers that we just can't manage to finish. Christmas is a time of joy, celebration, laughter and love... and, if we are all a little bit more aware, we can have a fantastic time whilst also being more mindful of our impact. 
With this in mind, here are a few simple ways to enjoy an eco-friendly Christmas, and make a new tradition for 2023 to go green...
Christmas Dinner
Making sustainable choices when it comes to Christmas food is a great way to reduce your carbon footprint. According to the Soil Association, "food is the single most important, everyday way for people to reduce their own environmental impact".
Make considered purchases when food shopping and check the labels. Buy British, and even better, buy local to your area. Visit farm shops in your local area and support local growers. Plan all of your meals for the festive season ahead to make sure you don't over-buy, and reduce food waste.
Why not swap the Christmas turkey this year for a vegetarian alternative? According to a UN report, the meat industry is responsible for more of the world's greenhouse gas emissions than cars. There are some delicious alternatives out there you could try such as a vegetarian nut roast, wellington or tartin. Get creative and load up on the veggies!
Deck the Halls
When it comes to decorating, choose decorations made from recycled materials, wood, fabric and glass and try to avoid ones that are plastic or PVC and non-recyclable. Choose with intention, and you'll be rewarded with objects that will be loved for years, as opposed to trend pieces that you'll want to change next Christmas.
There are so many divinely beautiful and eco-friendly Christmas decorations out there from independent brands. You can find wooden tree decorations, stockings made from recycled fabric, crochet stars, origami garlands, and so much more. Or, get creative and make your own!
The best eco-friendly Christmas decorations are those that become heirlooms and are reused every year.
Oh Christmas Tree, Oh Christmas Tree
The most eco-friendly Christmas tree option is to have a real tree. Real Christmas trees are far more sustainable than the artificial alternatives. One study has concluded that you would have to use your fake tree for 20 years for it to be greener. However, at the same time, up to seven million real trees will go into landfill in January rather than recycled.
The best and most ethical choice is either to have a living tree in a pot which can stay out in the garden throughout the year, and then come back inside for Christmas next year. Or look into the possibility of tree rental from a local garden centre, something that is becoming an increasingly popular choice.
Wrapping Presents
Wrapping paper is one of the most wasted materials at Christmas. Every year in the UK, we use around 277,000 miles of wrapping paper and most of it ends up in landfill. Wrapping paper often isn't recyclable and it's a huge contributor to waste at Christmas time. 
Buy recyclable wrapping paper. If you're not sure if it's recyclable, avoid anything glittery, shiny or lined with plastic.Try the "scrunch" test – if the paper stays scrunched up then it can be recycled but, if it doesn't then it is likely not recyclable. 
Or, try a different approach this year and wrap your presents in fabric or scarves that can be repurposed. You can always find these at charity shops. 
Use brown paper, tie everything together with string, raffia or repurposed ribbon and decorate with foliage for a simple but festive finish. 
With some careful thought and planning in advance, enjoying a sustainable Christmas can be easy! If everyone started taking these small steps, it would make a big impact. It's about progress, and not perfection.