Doing Veganuary? Enjoy The Best Vegan Chocolate Range from COCO Chocolatier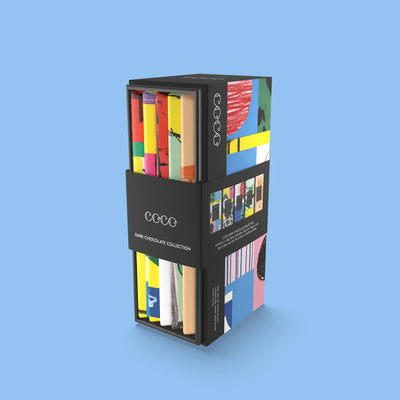 Are you going vegan this January? We have great news, going vegan doesn't have to mean giving up on your chocolate fix. Presenting to you... COCO Chocolatier's Vegan chocolate range!
Whether you are looking for some delicious chocolate flavours to try, or browsing for vegan-friendly gift, we have got you covered on all things vegan chocolate!
Here's our top picks for you to enjoy:
Colombian Dark Chocolate Bar
A chocolate with the seductive flavour of citric fruits and spices with herbal notes and light acid tones that gives a good balance between sweet notes and typical chocolate flavours. A mild, creamy, and delicate texture. 61% single origin Colombian dark chocolate.
Dark Chocolate Giant Raisins
Large raisins covered in the finest single origin dark chocolate and wrapped in a beautiful artwork by Andy Welland. The ultimate gift for lovers of both art and chocolate. Vegan and gluten free.
Colombian Plain Drinking Chocolate
Single-origin Colombian dark drinking chocolate - delightfully smooth and rich. 45% dark chocolate mixed with rich cocoa powder. The ultimate drinking chocolate from COCO!
Colombian Dark Chocolate Batons
Chocolate batons made from our classic 61% single origin Colombian Dark Chocolate.
Sea Salt Dark Chocolate Wafer Thins
Vegan dark chocolate thins, with the addition of the finest sea salt. A unique mixture of flavours that never disappoints.
Passion Fruit Dark Chocolate Bar
Exotic passion fruit flavours. Single-origin Colombian 61% dark chocolate.
Five Bar Dark Collection
Our dark chocolate collection contains five of our most popular 80g single-origin bars, each one made of the finest South American cacao. Beautifully presented in a box featuring an original collage by French duo Atelier Bingo, it is guaranteed to serve as the perfect gift. Inside it, you will find five vegan, palm oil-free, chocolate bars: Colombian 61%, Passion fruit, Isle of Skye Sea Salt, Gin & Tonic, and Cold Brew Coffee.
What is your chocolate fix going to be this Veganuary? You can browse our full collection here.