COCO x Sue Doeksen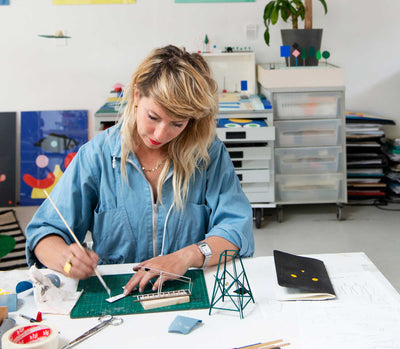 Amsterdam-based artist Sue Doeksen was the creative behind COCO's 2021 Christmas Collection. Doeksen describes herself as a "visual adventurer". When quizzed as to why, she laughs and says:
"I just like discovering things and playing with ideas. I never approach projects in one particular way."
COCO's team of creatives were captivated by how her style translates effortlessly from character driven illustration to abstract compositions for artworks, and decided to commission her to design its new Christmas range.
Our collaborative collection comes dressed to undress. The five festive launches come enrobed in a kaleidoscope of colour. A mix of board game inspired graphics, patterns within patterns, and nostalgic festive characters all fed into Doeksen's designs. The result is bold, bright and distinctively Doeksen.
Sue's studio is in the North of Amsterdam in a former shipping wharf. She is part of a vibrant community of 250 creatives who work alongside each other here. Her co-workers include artisans, carpenters and photographers. "Sometimes I forget there's an outside world", she says laughingly.
Our Christmas Collection is available here